Orono High School, Long Lake MN
Class Of 1960
Inspiration
Interview with God (click on the picture)
I Believe
I Believe...
That just because two people argue, It doesn't mean they don't love each other. And just because they don't argue, It doesn't mean they do love each other.
I Believe ...
That we don't have to change friends if we understand that friends change.
I Believe...
That no matter how good a friend is, they're going to hurt you every once in a while and you must forgive them for that.
I Believe...
That true friendship continues to grow, even over the longest distance. Same goes for true love.
I Believe...
That you can do something in an instant that will give you heartache for life.
I Believe...
That it's taking me a long time to become the person I want to be.
I Believe...
That you should always leave loved ones with loving words. It may be the last time you see them.
I Believe...
That you can keep going long after you think you can't.
I Believe...
That we are responsible for what we do, no matter how we feel.
I Believe...
That either you control your attitude or it controls you.
I Believe...
That heroes are the people who do what has to be done when it needs to be done, regardless of the consequences.
I Believe...
That money is a lousy way of keeping score.
I Believe...
That my best friend and I can do anything or nothing and have the best time.
I Believe...
That sometimes the people you expect to kick you when you're down will be the ones to help you get back up.
I Believe...
That sometimes when I'm angry I have the right to be angry, but that doesn't give me the right to be cruel.
I Believe...
That maturity has more to do with what types of experiences you've had and what you've learned from them and less to do with how many birthdays you've celebrated.
I Believe...
That it isn't always enough, to be forgiven by others; sometimes, you have to learn to forgive yourself...
I Believe...
That no matter how bad your heart is broken the world doesn't stop for your grief.
I Believe...
That our background and circumstances may have influenced who we are, but we are responsible for who we become.
I Believe...
That you shouldn't be so eager to find out a secret. It could change your life forever.
I Believe...
Two people can look at the exact same thing and see something totally different...
I Believe...
That your life can be changed in a matter of hours by people who don't even know you.
I Believe...
That even when you think you have no more to give, when a friend cries out to you - you will find the strength to help.
I Believe...
That credentials on the wall do not make you a decent human being.
I Believe...
That the people you care about most in life are taken from you too soon.
And, above all, I Believe...
That Jesus died for my sins on the cross.
A child was asked to write a book report on the entire Bible.
I wonder how often we take for granted that children understand what we are teaching???
Through the eyes of a child:
The Children's Bible in a Nutshell
In the beginning, which occurred near the start, there was
nothing but God, darkness, and some gas. The Bible says,
'The Lord thy God is one, but I think He must be a lot older
than that.
Anyway, God said, 'Give me a light!' and someone did.
Then God made the world.
He split the Adam and made Eve. Adam and Eve were
naked,
but they weren't embarrassed because mirrors
hadn't been invented yet.
Adam and Eve disobeyed God by eating one bad
apple, so
they were driven from the Garden of Eden.....Not sure
what they were driven in though, because they didn't
have cars.
Adam and Eve had a son, Cain, who hated his brother
as long
as he was Abel.
Pretty soon all of the early people died
off, except for
Methuselah, who lived to be like a million or something.
One of the next important people was Noah, who was a
good guy,
but one of his kids was kind of a Ham. Noah
built a
large boat and put his family and some animals on
it. He asked
some other people to join him, but they said
they would
have to take a rain check.
After Noah came Abraham, Isaac, and Jacob. Jacob was
more
famous than his brother, Esau, because Esau sold
Jacob his birthmark in exchange for some pot roast. Jacob
had a son
named Joseph who wore a really loud sports
coat.
Another important Bible guy is Moses, whose real name
was
Charlton Heston. Moses led the Israel Lights out of
Egypt
and away from the evil Pharaoh after God sent ten
plagues on
Pharaoh's people. These plagues included
frogs, mice, lice,
bowels, and no cable.
God fed the Israel Lights every day
with manicotti. Then he
gave them His Top Ten Commandments. These include:
don't lie, cheat, smoke, dance, or covet your
neighbour's
stuff.
Oh, yeah, I just thought of one more:
Humour thy father
and thy mother.
One of Moses' best helpers was Joshua who was the first
Bible guy to use spies. Joshua fought the battle of Geritol
and
the fence fell over on the town.
After Joshua came David. He got to be king by killing a
giant with a slingshot. He had a son named Solomon who
had
about 300 wives and 500 porcupines. My teacher says
he was wise,
but that doesn't sound very wise to me.
After Solomon there were a bunch of major league
prophets. One of these was Jonah, who was swallowed
by a big whale and then
barfed up on the shore.
There were also some minor league
prophets, but I guess
we don't have to worry about them.
After the Old Testament came the New Testament. Jesus
is the
star of The New. He was born in Bethlehem in a
barn.
(I wish I had been born in a barn too, because my
mom is always saying to me, 'Close the door! Were you
born in a barn?' It would be nice to say, 'As a matter of
fact, I was.')
During His life, Jesus had many arguments with sinners
like
the Pharisees and the Democrats.
Jesus also had twelve opossums.
The worst one was Judas Asparagus. Judas was so evil
that they
named a terrible vegetable after him.
Jesus was a great man. He healed many leopards and
even
preached to some Germans on the Mount.
But the Democrats and all those guys put Jesus on trial
before Pontius the Pilot. Pilot didn't stick up for Jesus. He
just washed his hands instead.
Anyways, Jesus died for our sins, then came back to life
again. He went up to Heaven but will be back at the end
of the Aluminium. His return is foretold in the book of
Revolution.
(Thanks, Phil, for this contribution. Did you do it from memory?)
"All that I have seen, has taught me to trust the Creator for All that I have not seen..."
The Picnic

A Jewish Rabbi and a Catholic Priest met at the town's annual 4th of July picnic. Old friends, they began their usual banter.

"This baked ham is really delicious," the priest teased the rabbi. "You really ought to try it I know it's against your religion, but I can't understand why such a wonderful food should be forbidden! You don't know what you're missing. You just haven't lived until you've tried Mrs. Hall's prized Virginia Baked Ham. Tell me, Rabbi, when are you going to break down and try it?"

The rabbi looked at the priest with a big grin, and said, "At your wedding."
Click on the image below for an Irish Blessing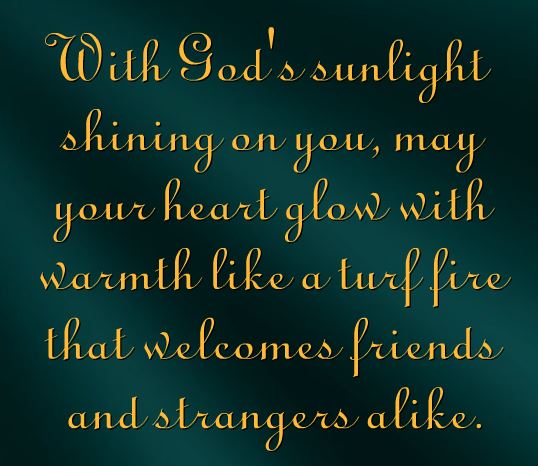 IF YOU KNOW YOUR HYMNS

Dentist's Hymn...................................Crown Him with Many Crowns
Weatherman's Hymn.........................There Shall Be Showers of Blessings
Contractor's Hymn.............................The Church's One Foundation
The Tailor's Hymn...............................Holy, Holy, Holy
The Golfer's Hymn............................. There's a Green Hill Far Away
The Politician's Hymn........................Standing on the Promises
Optometrist's Hymn............................Open My Eyes That I Might See
The IRS Agent's Hymn........................I Surrender All
The Gossip's Hymn.............................Pass It On
The Electrician's Hymn......................Send The Light
The Shopper's Hymn..........................Sweet Bye and Bye
The Realtor's Hymn............................. I've Got a Mansion, Just Over the Hilltop
The Massage Therapists Hymn....... He Touched Me
The Doctor's Hymn............................. The Great Physician

AND for those who speed on the highway - a few hymns:
45mph....................God Will Take Care of You
65mph....................Nearer My God To Thee
85mph....................This World Is Not My Home
95mph....................Lord, I'm Coming Home
100mph..................Precious Memories

Give me a sense of humor, Lord,
Give me the grace to see a joke,
To get some humor out of life,
And pass it on to other folk.
The next time you feel like GOD can't use YOU, just remember...
Noah was a drunk
Abraham was too old
Isaac was a daydreamer
Jacob was a liar
Leah
was ugly
Joseph was abused
Moses had a stuttering problem
Gideon was afraid
Sampson had long hair and was a womanizer
Rahab was a prostitute
Jeremiah and Timothy were too young
David had an affair and was a murderer
Elijah was suicidal
Isaiah
preached naked
Jonah ran from God
Naomi was a widow
Job went bankrupt
John the Baptist ate bugs
Peter denied Christ
The Disciples fell asleep while praying
Martha worried about everything
The Samaritan woman was divorced, more than once
Zaccheus was too small
Paul was too religious
Timothy had an ulcer...
AND Lazarus was dead!

No more excuses now!! God can use you to your full potential. Besides you aren't the message, you are just the messenger.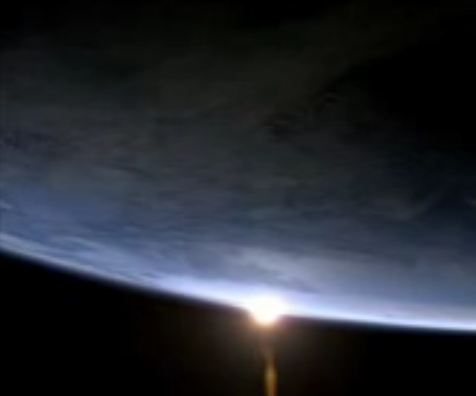 (click on the picture above)

Smith climbs to the top of MT. Sinai to get close enough to talk to God.

Looking up, he asks the Lord... 'God, what does a million years mean to you?'





The Lord replies, 'A minute.'




Smith asks, 'And what does a million dollars mean to you?'




The Lord replies, 'A penny.'




'Smith asks, 'Can I have a penny?'




'The Lord replies, 'In a minute.'

<