Orono High School, Long Lake MN
Class Of 1960
Jeanne Robertson | The Baton Story
Lousy Old Puns
I stayed up all night to see where the sun went. Then it dawned on me.
Memories of the '50's
Historical Trivia:
I As incredible as it sounds, men and women took baths only twice a year (May and October) Women kept their hair covered, while men shaved their heads (because of lice and bugs) and wore wigs. Wealthy men could afford good wigs made from wool. They couldn't wash the wigs, so to clean them they would carve out a loaf of bread, put the wig in the shell, and bake it for 30 minutes. The heat would make the wig big and fluffy, hence the term 'big wig... ' Today we often use the term 'here comes the Big Wig' because someone appears to be or is powerful and wealthy.
What if my dog only brings back my ball because he thinks I like throwing it?

Weekly Hits

The top song this week in 1957: "Honeycomb" by Jimmie Rodgers
The top song this week in 1958: "It's All in the Game" by Tommy Edwards
The top song this week in 1959: "Sleep Walk" by Santo & Johnny
The The top song this week in 1960: "My Heart Has a Mind of Its Own" by Connie Francis
The top son this week in 1942: "I've Got a Gal in Kalamazoo" by Glenn Miller and his Orchestra
One of the happiest moments ever is when you find the courage to let go of what you can't change.


"Our friends are a very important part of your lives. Treasure the tears, treasure the laughter, but most importantly, treasure the memories."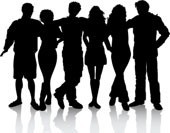 Click on the box if you have a suggestion or comment.

If you stare at this picture long enough,
You will see a giraffe.
Statement of Intent
This web site was created to promote, celebrate and reconnect with classmates. Your participation is essential for it to succeed. We need your photos, updates and memories to enhance the site. Your fellow classmates will enjoy hearing about you. Even if you haven't attended a reunion, nor kept in touch since high school, we ask that you please take the time to update your profile and maybe add a photo or two. Your additions will make this site fun, interesting and complete.
"Rekindled friendships often burn more brightly"

<