Orono High School, Long Lake MN
Class Of 1960
The Door
Ever walk into a room with some purpose in mind, only to completely forget what that purpose was? Turns out doors are to blame for these strange memory lapses.
Psychologists at the University of Notre Dame have discovered that passing through a doorway triggers what'sknown as an even boundary in the mind, separating one set of thoughts and memory from the next.
Your brain files away the thoughts you had in the previous room and prepares a blank slate for the next locale.
Thank goodness for studies like this. It's not our age, it's the stupid doors!
The Nature of God. (click on the picture below)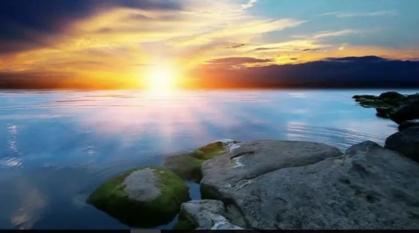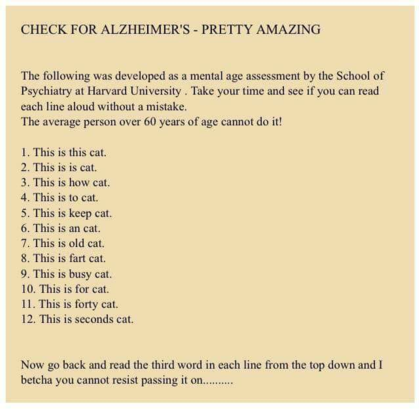 I contend that for a nation to try
to tax itself into prosperity is like a
man standing in a bucket and
trying to lift himself up by the handle.
-- Winston Churchill
They Walk Among Us!
Seems an Arkansas guy wanted some beer pretty badly. He decided that he'd just throw a cinder block through a liquor store window, grab some booze, and run. So he lifted the cinder block and heaved it over his head at the window. The cinder block bounced back and hit the would-be thief on the head, knocking him unconscious. The liquor store window was made of Plexiglas. The whole event was caught on videotape.

Weekly Hits

The top song this week in 1957: "Round and Round" by Perry Como
The top song this week in 1958: "Tequila" by The Champs
The top song this week in 1959: "Come Softly to Me" by The Fleetwoods
The The top song this week in 1960: "Moonlight Cocktail" by Glenn Miller and his Orchestra
The top son this week in 1942: "Theme from a Summer Place" by Percy Faity and his Orchestra
One of the happiest moments ever is when you find the courage to let go of what you can't change.


"Our friends are a very important part of your lives. Treasure the tears, treasure the laughter, but most importantly, treasure the memories."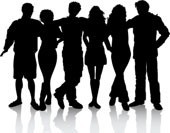 Click on the box if you have a suggestion or comment.

If you stare at this picture long enough,
You will see a giraffe.
Statement of Intent
This web site was created to promote, celebrate and reconnect with classmates. Your participation is essential for it to succeed. We need your photos, updates and memories to enhance the site. Your fellow classmates will enjoy hearing about you. Even if you haven't attended a reunion, nor kept in touch since high school, we ask that you please take the time to update your profile and maybe add a photo or two. Your additions will make this site fun, interesting and complete.
"Rekindled friendships often burn more brightly"

<